The Drop Dead Book: My Need to Know Information©
Call 919-554-0675 to  Purchase The Drop Dead Book –>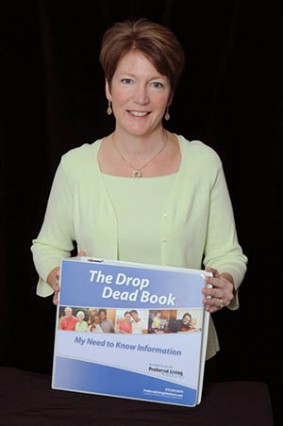 Life is unpredictable, and you can never be too prepared. We created The Drop Dead Book: My Need to Know Information© to help people organize and store their most important documents and personal information in one easy-to-find location. This comprehensive resource includes sections for insurance policies, medical history, financial information, usernames and passwords, social security cards, warranty information and much, much more.
Read the Table of Contents and find out all that the Drop Dead Book has to offer.
In addition to being a great organizing tool, The Drop Dead Book provides an opening for conversations with family members about wishes and expectations regarding the management of an emergency situation. It is an essential tool for anyone who lives alone, has children, is a senior, has a significant other, experiences chronic illness…for everyone. So we are making it available to everyone, not just our clients!
The idea for The Drop Dead Book came while Melanie Mattingly, managing partner of Preferred Living Solutions, was working with a client whose husband had recently died. She told Melanie she was going to put all of her need-to-know information in one place in case "I drop dead." In the midst of her grief — and while caring for her 90-year-old mother and an adult son with a disability– she had to go on a scavenger hunt to find insurance policies, bank account information, their marriage license, birth certificates and other information necessary to manage her household. She was determined to have everything in one place for her daughter who would most likely manage her affairs should she become ill or die. Read the Drop Dead Book press release.
"We've discovered that most people don't have all of their important information in one, easily accessible location," says Mattingly, who founded Preferred Living Solutions in 2008. "In helping people apply for benefits, convey information to healthcare professionals and even reboot computers, we too, have had difficulty locating the details needed to handle these tasks. The Drop Dead Book will now change that."
Purchase Options:
1-9 Books . . . . . . . . . . . . . . . . . . . $49.95 each, includes tax
10-19 Books . . . . . . . . . . . . . . . . . $45.00 each, includes tax
20+ Books . . . . . . . . . . . . . . . . . . $40.00 each, includes tax
Please call for:
Package Deal . . . . . . . . . . . . . . . . . . . $400.00, includes tax
One book and eight hours of care management consultation to complete the book