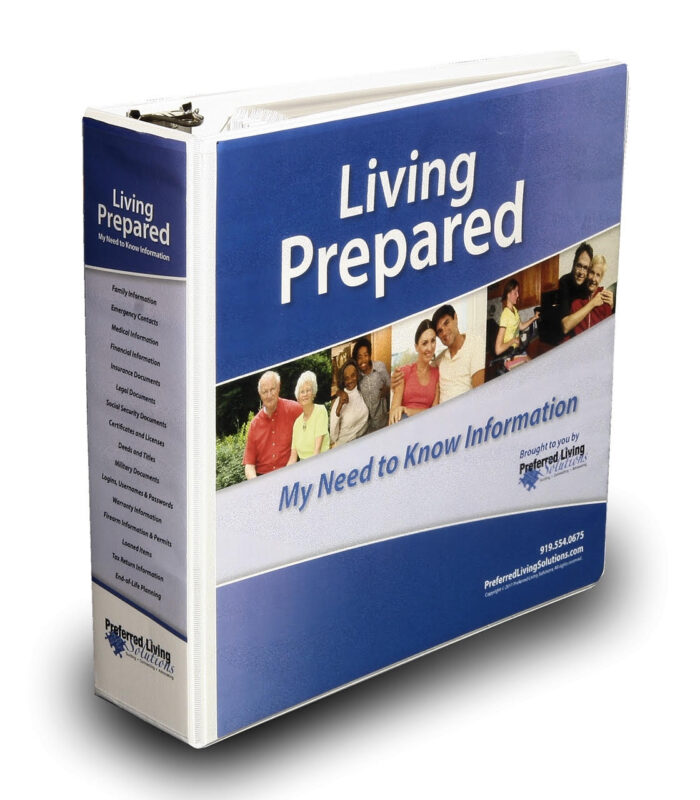 The Living Prepared Workbook
Life is unpredictable, so it's more important than ever to live prepared!
The Living Prepared Workbook©: My Need to Know Information is a comprehensive notebook to help people organize and store their most important documents and personal information in one easy-to-find location. The book is an organizational binder with well-defined sections to record and organize the significant details of one's life, including sections for medical and financial information; legal documents; insurance policies; usernames, logins and passwords; and much more. It includes pockets in each section to store essential documents such as social security cards, insurance policies, deeds, titles, etc.
The workbook was created by Preferred Living Solutions, a North Carolina-owned
Aging Life Care™/private care management company. Our experienced and knowledgeable care managers assist individuals and families who are caring for loved ones to identify, access and manage resources and services to address their needs and preferences. We help develop a plan, manage crises, and ease the way for families who are overwhelmed and stressed by choices, tasks and challenges that often surround the complexities associated with aging, disability, and illness.