Preferred Living Solutions' Aging Life Care™/Geriatric Care Managers work closely with individuals and families to develop, implement and monitor personalized plans and solutions for health, home, transportation, and other life transitions. We help you and your loved ones maintain dignity, safety and a meaningful life by addressing your unique needs, preferences and resources.
Angela Woodard, Care Manager
angela@preferredlivingsolutions.com
Angela Woodard has been a Care Manager at Preferred Living Solutions since 2008. Prior to joining Preferred Living Solutions, Angela was a case manager/team leader for 10+ years at a non-profit foundation supporting people with brain injuries. Angela holds a BA in Psychology from Meredith College. Her deep experience in the human services arena makes her an indispensable resource to seniors and people with disabilities who need help living the lives they desire.
Angela's ability to develop and build relationships plays a big role with successes that she and families achieve together. Angela is passionate about strengthening relationships in families and helping them find common goals that improve the lives of their parents, grandparents, sisters, brothers, etc. Angela is a skilled facilitator for families, offering a knowledgeable, compassionate approach to help them find solutions to improve the lives of their loved ones.
Angela and her husband, Sam, live in Wake Forest, NC. Between the two of them they have 4 children.
"I have a genuine interest in helping people, and sincerely care about people's lives. I take the time to listen to people– their needs, frustrations, joys, and successes. I help people work through challenges and achieve their goals."
Kathleen Griffin, Care Manager
kathlene@preferredlivingsolutions.com
Kathleen Griffin is a Care Manager at Preferred Living Solutions. Kathleen is a graduate of St. Andrews University with a BA in Marketing and Management and has completed graduate course work at NC State University towards her MS in Psychology. Patient advocacy and pursuit of quality care and support for seniors and people with disabilities are personal passions for Kathleen. She draws on strong experience gained during her 20 year career in healthcare settings, most recently serving as Family Liaison and Health Educator with Nationwide Children's Hospital in Columbus, Ohio.
A natural problem-solver, Kathleen is undaunted by the complexities of healthcare systems and finds satisfaction in helping older adults and families get the resources they need. Kathleen grew up in Raleigh, NC. She and her young daughter, Anna, currently live in Raleigh. Kathleen spends free time with family and friends. She loves photography, reading and animals.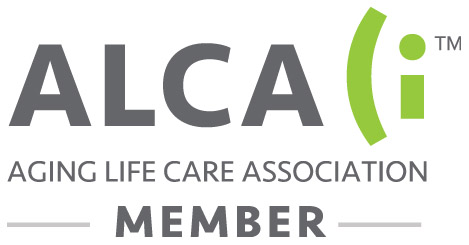 Melanie Mattingly, Managing Partner
melanie@preferredlivingsolutions.com
Melanie founded Preferred Living Solutions in 2008 after navigating the fragmented path of finding, selecting and supervising reliable support for her own family members. Melanie knew she wanted to share the knowledge she had gained through her own experience. Her previous working in the disability service arena paired with her personal experience now benefits families facing similar challenges.
Her goal as managing partner of Preferred Living Solutions, is to provide a service that respects individual and family dynamics and preferences while securing the greatest quality of life possible for seniors and people with disabilities.
A Wake Forest native, Melanie has a Bachelor's Degree in Social Work from the University of North Carolina at Greensboro and more than 20 years of experience in the human service field. Before founding Preferred Living Solutions, Melanie was the executive director of Community Partnerships, a local non-profit that provides rehabilitation and support services to people with disabilities. An active member of her community, Melanie has served on the board of directors as vice president for First in Families of North Carolina, a non-profit organization that helps people with developmental disabilities and their families create the lives they want now and in the future. Melanie lives in Swansboro with her husband, Lloyd, and their two sons, Wyatt and Garrett. She volunteers at her youngest son's school and supports their love of baseball.
"My passion is connecting Preferred Living Solutions' clients with resources and services that will help them through life's transitions and obstacles. As our population ages, more families will be thrust into making tough decisions like those I faced with my own mom and dad. We're here to help guide and support with care, compassion and expertise."
Michael Stickney, Certified Care Manager
michael@preferredlivingsolutions.com
Michael was born and has lived in Raleigh all his life. He received his Master's Degree in Counseling from North Carolina Central University and his undergraduate Psychology degree from the University of North Carolina at Greensboro.
He began his professional career at a nonprofit (Community Partnerships) that assisted individuals with developmental disabilities in finding employment in the local community. He also worked with an "in house" program with individuals with Traumatic Brain Injuries. He was able to develop his skills of working with individuals and their families towards achieving goals, both with employment and in all other aspects of their lives (social, physical). 
He then worked with individuals who had been injured on their jobs and helped them attain new jobs as well as training and education/certification. This also prepared Michael to work with other professionals such as attorneys and insurance industry officials. Certain individuals that Michael had to work with did not always have the best interest of his clients so he has become experienced at advocating for others in potentially awkward or even adversarial situations.Overall, he has over 25 years of experience identifying, accessing and managing resources and helping people to achieve their desired outcomes.
Michael is married with two boys currently in 7th and 4th grade. He loves sports including playing, watching but most specifically coaching.
"Each of my positions have helped train me to become an excellent resource identifier and facilitator of services. For as long as I can remember I have been someone that has wanted to help others to achieve their goals. As a case manager, my goal is to help you be able to focus on loving your family and worrying less about the potential issues surrounding their day to day care/needs." 
Vivian McLaurin, Certified Care Manager
vivian@preferredlivingsolutions.com
Vivian McLaurin is a Certified Care Manager at Preferred Living Solutions. Vivian completed her undergraduate degree in Sociology at Meredith College. She holds a graduate certificate in Geriatric Care Management from the University of Florida and a National Certification in Care Management from NACCM. Quality care for older adults, support for family caregivers and aging in America are personal passions for Vivian. She has great appreciation for a diversity of cultures, especially as they relate to aging in families and communities, drawing on experience gained during her 25 year career in international public health.
Vivian is a Raleigh, NC native. She lives with her husband in Garner, NC. They have one son that lives in Durham, NC. Her free time is spent with family and friends. She loves NC from the mountains to the coast, exercise and reading.
Vivian embraced the thrill of a mid-life career change; a self-described baby boomer with a cause.
"I am pursuing my passion for improving the quality of life for older adults and their caregivers."
Cortney L. Couitcher, Care Manager
cortney@preferredlivingsolutions.com
Although a native of Michigan, Cortney has lived and learned in Florida for the last 14 years. She is newly a resident of the Triangle area after her husband was offered his dream job at Duke University Hospital. She received her bachelor degree in Interdisciplinary Health and Human Services from Western Michigan University. Afterwards, she completed her Master's Degree in Occupational Therapy at Nova Southeastern University.
Cortney has worked in healthcare for 9 years and in a variety of settings, which include acute inpatient hospital practices, skilled nursing facilities, inpatient rehabilitation hospitals, outpatient therapy, and behavioral health facilities.
In addition to her varied work experience, Cortney has a special interest in home accessibility and aging in place. As such, she completed formal training in these disciplines via the National Association of Home Builders (NAHB) to become a certified aging in place specialist.
In her spare time, Cortney enjoys traveling, cooking, spending time with her dogs, and all things water related.
Ashley Clayton, Care Manager
ashley@preferredlivingsolutions.com
Ashley Clayton is a Care Manager at Preferred Living Solutions. Ashley received her Associate in Applied Science (AAS) degree as an Occupational Therapy Assistant (OTA) from Durham Tech in 2010.
Prior to joining Preferred Living Solutions, Ashley was an occupational therapist assistant working with the geriatric population in a skilled nursing/rehabilitation setting for nine years. She has also served adults with brain injuries as an OTA in a skilled setting.
Ashley's strong desire to connect with and to help people shines through as soon as you meet her. She developed a passion for the geriatric population during field work while in school. She loves building relationships with clients and developing long lasting relationships with them and their family members. Recently Ashley's focus with continuing education has been on fall prevention, aging in place, and home modifications.
Ashley grew up in Durham, NC and currently lives in Wake Forest. She enjoys spending time with family and friends that live locally. Ashley loves painting furniture, crafting, and has fun hunting for the next great treasure at thrift shops.
"I found Preferred Living Solutions as I started to desire a non traditional therapist job. I am excited to utilize my therapy background with the company and be involved in the community."
Chiffon Prince, Care Manager
chiffon@preferredlivingsolutions.com
Chiffon Prince has joined Preferred Living Solutions in the position of Care Manager. Chiffon grew up in a small town outside of Philadelphia, Pennsylvania and relocated to North Carolina in 2015 with her daughter and granddaughter. Chiffon brings 25 years of combined experience in Business Administration, Customer Service, Property Management, with her focus the last 9 years in Human Services, providing excellent personal care and care management services to seniors as a professional caregiver.
Chiffon has pursued excellence in her field receiving her certificate in Gerontology from Allegra Learning Solutions in 2019, training in Personal Care Home Administrator at Temple University/DPW in 2014, completed studies in Human Services with a certificate in Direct Support Professional at Delaware Technical Community College in 2013, earned credits in Intellectual Disabilities at Camden County Community College in 2010, and became a Certified Medical Assistant at RETS Education Center in 1993.
Prior to partnering with Preferred Living Solutions, Chiffon has operated in the awesome roles of family caregiver and professional Caregiver for 12 years. These roles have compelled such a devotion from Chiffon to not only ensure the health and safety of the individuals she served, but also provided what was needed to help them and their families live their best possible life. Her genuine passion for seniors keeps her striving to make certain they live the life they truly deserve and are meant to live. She is grounded and guided by her faith and it is evident by the loving care she provides.
Chiffon Prince is skilled in knowledge and abilities to organize resources and establish priorities to the benefit of each clients' need . This has developed in her an excellent ability to analyze and anticipate the needs of her clients and offer the appropriate solutions that will afford them the opportunity to experience the light of life.
Amy Langerud, RN, BSN
amy@preferredlivingsolutions.com
Amy recently joined Preferred Living Solutions as a care manager. Amy is a compassionate and dedicated Registered Nurse with experience providing quality patient centered care in a variety of settings and has experience with a variety of diverse age groups. Amy earned her nursing degree from Rutgers University in 1986.  She has more than 20 years of experience in the healthcare field. 
Amy's nursing career spans the healthcare continuum from oncology to neurology to case management in in-patient rehabilitation settings for people living with brain injuries, Spinal cord injuries and Strokes and other major health issues. Additionally, Amy has spent years as a private duty nurse. Her experience includes years working in hospitals, long term care and in the home. She has strong abilities to coordinate, advocate and communicate with all members of a patient's healthcare team with a person-centered approach.
Amy also has a deep understanding of the role of family caregiver. She has been the primary caregiver for family members throughout her adult life. She has served as a tireless advocate for loved ones and empowered them to be strong advocates for themselves so that while they may have to live with chronic health diagnoses, they are not limited by them. 
Amy combines her strong nursing training and experience to support her patients and their loved ones. Her overarching philosophy is to help others understand her patients' wishes and desires for the way they would like to be cared for and to put that plan into action while striving for optimal care.
Amy and her husband have three adult children. Amy and her husband currently reside in the Clayton, NC area after relocating from California last year.